Offers Every Concrete Pump Hose You Need to Get the Job Done
Jan 05,2023 | Views: 152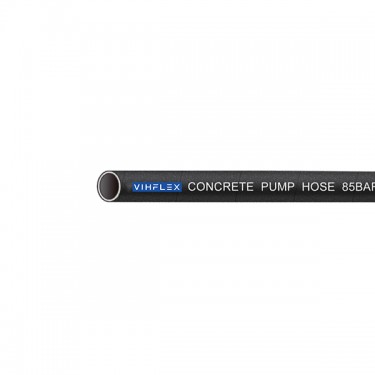 It is important to make sure that these Concrete pump hoses that you are purchasing are not stiff, are not too heavy, and are not too expensive. These are the most crucial part of the whole operation because it is through them that we transport all these concrete. They have to be very resistant and they have to be smooth enough inside for the easy passage of the material. People normally use 2-inch Concrete pump hose for a 1-man operation but when you have the manpower to handle bigger diameters, you can go all the way up to 5 inches for trailer pumps or you can go up to 6 inches for a boom pump. With our weekly stock orders, we can have custom length Concrete pump hoses available with short notice. Unlike offered by competitors, our hose meets all standard concrete industry pressure ratings.
The VIHHose Concrete pump hose maintains a temperature range of -25˚F to 180˚F (-32˚C to 82˚C) and is ideal for handling large concrete jobs. Additionally, our hoses offers a number of accessories to increase its utility. VIHHose carries a variety of durable, reliable Concrete pump hose that will keep your pumps operating smoothly and your job progressing efficiently. And in addition to the best hoses in the business, you'll also find a wide variety of Concrete pump hose accessories and other related products in stock, plus knowledgeable service representatives to help you get what you need and get back to work as quickly as possible.
Qingdao VIH hose Co., Ltd. offers every hose you need to get the job done! All Concrete pump hoses are crimped in house with heat treated stems, these are produced in factories in Europe with over 60 combined years of experience making Concrete pump hose. We carry all diameters of Concrete pump hoses (ranging from 1.5″to 5″) in both steel-reinforced and textile. In addition to our traditional hoses, we stock lay flat hose, reducing hose and non-marking hose, as well. Since we carry more than 16 miles of raw Concrete pump hose in inventory and have our crimping operation, we can make almost any custom hose length to fit your needs and most requests can ship within one business day. Contact us and one of our specialists will help you get the right set up for your job, depending on the specifics required, so there is no waste or unused parts. We deliver Concrete pump hose for sale anywhere in the world.
Prev: Tips for Choosing Concrete Pump Hose and Waterblast Hose
Next: Why to Choose Concrete Pump Hose from VIHHose?