Waterblast hose
Tube: Mineral,vegetable,glycol basis fluids hydraulic oil resistant special synthetic rubber
Reinforcement: 4 high tensile steel wire spiral
Cover: Oil, abrasion and weather resistant special synthetic rubber
Application: For very high pressure hose for water scaling and jetting systems
Product Details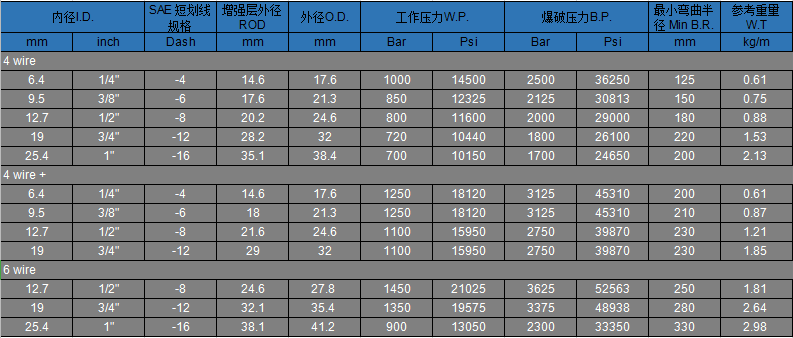 What are the various purposes of the waterblast hose?
In multiple workplaces, the force water flow is required for their process of work such as cleaning, for the construction purpose, and a lot more. But while having a forced water supply in the typical water tube, it will get repair in a shorter duration. The main reason is those water tubes is not having the capability of having that much water force.
How waterblast hose is useful?
It is typically designed to have the normal water flow, when you used it for various forcible functionalities it will not support. That's why experts were designed a usable unique waterblast hose for the purpose of the high force of water supply. This water hose is used in car cleaning and in the cleaning of other big vehicles to smaller vehicles.
While when you clean things with it, it provides a shiny look. Every single dust and other unwanted particles will go when you use this water hose. Aside from the multiple fire engines to be having this water hose. It helps to demolish the deep fire quickly and to fulfill huge tanks we are using this water hose. When we seem to buy it, then get it from Vihflex, they are offering rich quality multiple versions of water hose to their clients.
Qingdao VIH hose Co., Ltd is known for delivering high quality, reliable products for virtually every application, and there is no exception for waterblast hose. All of our Waterblast Hoses are 100% tested and certified. VIH carries Dunlop Hiflex high performance Waterblast Hoses for use in many waterblast applications such as paint removal, hydro-demolition of concrete, tank cleaning and much more. They are offered in 3 pressure series with color coded branding for easy identification. All have a safety factor of 2.5:1 and conform to RMA standards.


VIH offers waterblast hose with 4 and 6 steel spiral reinforcements. They have a safety factor of 2.5:1 and conform to RMA standards. These hoses are designed to be used for scale removing operations needing extremely high working pressures:
building and industrial sectors (roadworks, removal of concrete from reinforced concrete structures safeguarding metal components)
scale removal ships hulls in shipyard
dust elimination
All 3 hoses have covers that resist abrasion, ozone and high temperatures.


VIH are market leaders for the manufacture of waterblast hose that deliver high efficiency, reliable handling, and excellent safety standards. Our Waterblast Hose products offer the capability to operate under ultra-high pressures and high temperatures and comply with stringent industry safety standards. These waterblast hoses have excellent handling characteristics and are proven to enhance operator efficiency. They also reduce downtime and provide extended service life, making them suitable for use for a wide range of applications across many of the major industrial markets.
Inquiry Now
Can't find the specific information you're looking for? Have a question ? Contact Us